by giuli 6 settembre 2010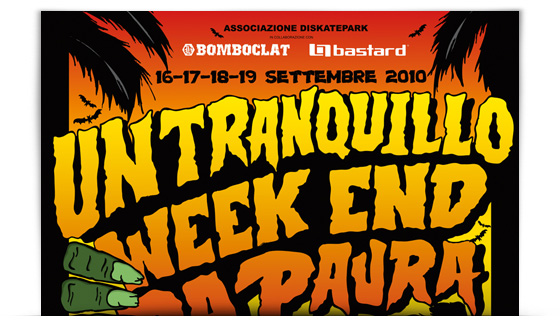 Giunto ormai alla sua sesta edizione, a chiudere in bellezza l'estate, il contest/evento Un tranquillo weekend da paura prenderà vita dal 16 al 19 di Settembre.
Come al solito sarà un week end di skateboard, musica e delirio all'ormai noto Bonassodromo di Usmate. Il tutto rigorosamente gratuito!
Qui di seguito il programma di quest'anno:
GIOVEDI' 16 SETTEMBRE
ore 21.00 – concerto
Finale concorso musicale "Orfani di palco"
VENERDI' 17 SETTEMBRE
ore 21.00 – concerto
RAISED FIST + the crew
SABATO 18 SETTEMBRE
ore 15.00
Contest di skateboard su minirampa Categoria B con premi in materiale offerti dagli sponsor.
ore 17.00
Demo di BMX freestyle con il Team Frontocean.
ore 21.00 concerto
THE REAL MACKENZIES + the Mahones
DOMENICA 19 SETTEMBRE
ore 15.00
Contest di Skateboard su minirampa, valido per il Campionato Italiano Skateboard Society.
Sull'ormai famosissimo rampone di Usmate si sfideranno all'ultimo trick i alcuni tra i migliori skaters italiani e stranieri per accaparrarsi i 2000 euro di montepremi e il BURN best trick!
Il tutto sarà accompagnato come al solito dalla simpatia di GroS e dall'ottima musica di Pela.
Se volete farvi un'idea guardate il video report della scorsa edizione.