by davidelp 10 novembre 2009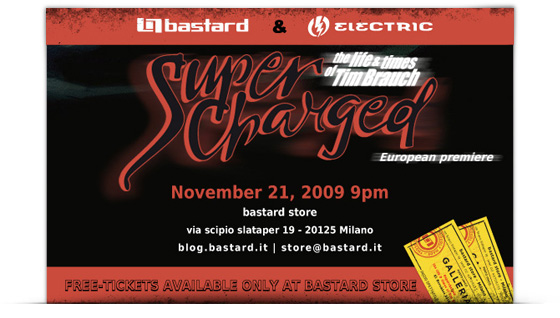 Sabato 21 Novembre 2009 ore 21
bastard store, via Scipio Slataper 19 a Milano
Ingresso gratuito, su presentazione biglietto.
Biglietti disponibili al bastard store fino ad esaurimento posti.

Il 9 maggio del 1999 la vita di Tim "Beans" Brauch, appena venticinquenne, terminava a causa di un arresto cardiaco. Tim è stato un grande skater e un ottimo amico per tutti coloro che lo hanno frequentato.
Supercharged, the life and times of Tim Brauch, è un documentario che esplora a fondo l'affascinante vita di Tim, personaggio che ha segnato il mondo dello skateboarding e ha ispirato generazioni future. La sua storia ci viene raccontata attraverso immagini del passato e testimonianze delle persone che gli sono state vicino.
Grazie al lavoro di Diana Manfredi che ha organizzato tutto da San Francisco insieme al regista Pete Koff, e al supporto tecnico di ID-Impronte Digitali, siamo riusciti a portare a Milano la premiere europea. Sabato 21 novembre dalle 21,00 potremo goderci la visione di questo documentario seduti sulle gradinate dell'ex-cinema Istria già utilizzate per Underskatement.
Dopo la proiezione skate session privata.
Per partecipare occorre venire al bastard store e ritirare gratuitamente il proprio biglietto. I biglietti sono disponibili, fino ad esaurimento posti, a partire da oggi fino a sabato 21 Novembre.
Per informazioni potete contattare il bastard store, oppure scrivere all'indirizzo email: store@bastard.it
The movie was off the hook, very inspirational story for sure. Tim was awesome and it's great that his legacy still lives on today, go see this film if you haven't already…It Rocks!

-Steve Caballero-