by davidelp 18 marzo 2011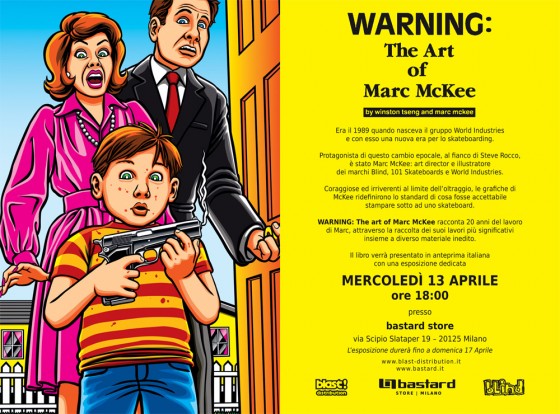 Marc McKee's art was so controversial that they had an entire wall of Cease and Desist orders for his graphics at World…

Rodney Mullen
Blast Distribution presenta WARNING: The Art of Marc McKee (la mostra e il libro) in anteprima italiana al bastard store.
Inaugurazione mercoledì 13 Aprile 2011 alle 18:00, per ammirare alcuni tra gli artworks e le tavole più significative di Marc McKee – l'illustratore che ha rivoluzionato la grafica nello skateboard – e scoprire il libro a lui dedicato.
WARNING: The Art of Marc McKee è realizzato da Winston Tseng, Art director di Enjoi Skateboards. 96 pagine che raccontano l'arte di Marc McKee, attraverso i suoi lavori a partire dagli anni 80 fino ai giorni nostri.
All'attivo di Marc ci sono più di 1000 grafiche da skateboard principalmente per World Industries, blind e 101, tra di esse svariate pietre miliari della storia dello skateboarding, in pratica quasi tutte quelle più controverse e scomode…