by davidelp 1 febbraio 2010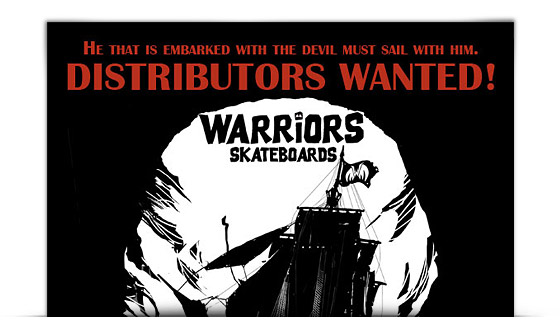 Warriors Skateboards è fiera di annunciare la sua prima partecipazione ufficiale all'ISPO tradeshow, dal 7 al 10 febbraio 2010, Hall A2 – Booth 348A.
Per andare a trovarli basterà seguire le indicazioni per la MiniRamp; lo stand Warriors si troverà lì sotto, per potersi gustare al meglio le run di Igor Fardin, Kevin Blaser e Martino Cattaneo.
I Warriors avranno a disposizione un piccolo stand con parecchie sorprese… qualche anticipazione? Pirate Bar con free drinks per tutti i visitatori, area tattoo con due piratesse pronte a tatuare loghi Warriors ovunque e il Warriors WAR OF THE WALL contest, sul wallride costruito da IOU Ramps con cui abbiamo sviluppato la t-shirt Gatrash nella collezione FW 2009.
Oltre a questi ghiotti intrattenimenti, Warriors presenterà "Myths", una serie di 5 tavole da skate disegnate da altrettanti artisti sul tema delle creature mitologiche, e la nuova collezione bastard Jammin' FW 2010 di cui si può vedere un'anteprima qui sotto.