by davidelp 1 February 2010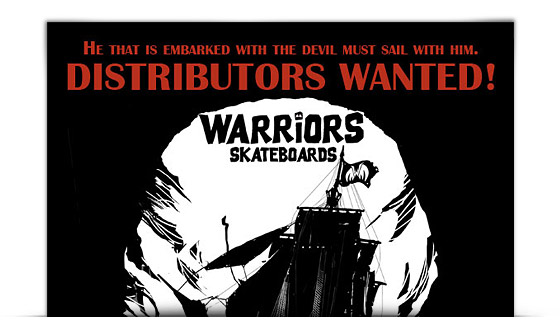 Warriors Skateboards proudly announces its first presence at the ISPO tradeshow in Münich (Germany) from February 7th through February 10th, Hall A2 – Booth 348A.

You will find the Warriors just behind the MiniRamp, so that you will easily enjoy the runs of Igor Fardin, Kevin Blaser and Martino Cattaneo.
The warriors will have a little booth with many surprises… need anticipations? Pirate Bar with free drinks for all visitors, tatoo area with pirate girls ready to tatoo Warriors logos all over the place, and last but not least, Warriors WAR OF THE WALL contest, on the wallride build by IOU Ramps with whom we had a collabo out in FW 2009.
Besides these tasty entertainment sessions, Warriors will be presenting the skate series Myths, 5 artists for 5 decks inspired by mythological creatures, and the new bastard Jammin collection FW 2010, of which we offer a peep preview below.