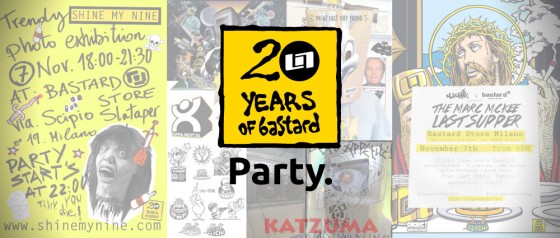 FRIDAY 7 NOVEMBER bastard turns 20 years old and to celebrate we launch a party from 9PM at bastard store in via Scipio Slataper 19, Milano.
This is the deejays' lineup:
Experi-Mental / Gruff / Jopparelli / Aladyn / Katzuma 
Starting from 6PM we host The Marc McKee Last Supper with the Cliché Skateboards team, the flash tattoos (specially hand drawn by McKee himself!) with the Tattoo Agio crew, the photo exhibition and zine launch of Shine My Nine, live silkscreening by Print Fast Dry Young and, of course, the bastard bowl skate session with all of our friends that will stop by.
! NOTE: ENTRANCE FROM 9PM IS BY INVITATION ONLY and maybe you already got it. If not, there is still a chance to get one of the last seats now by registering to our Newsletter at this link and get a confirmation by tomorrow at 4PM.