by Riccardo Tognella 28 ottobre 2015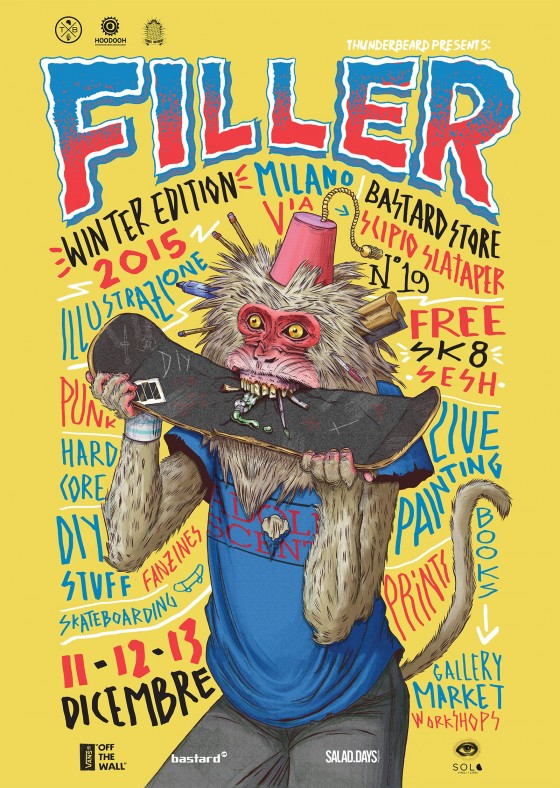 Filler, convention dedicata all' illustrazione, grafica e più in generale all'arte legata al circuito punk, hardcore, skate e a tutti i progetti che fanno del DIY il proprio credo, vedrà la luce per la terza volta proprio qui da noi al bastard store in via Slataper 19 a Milano (M5 Lilla – ISTRIA).
Ideata da Thunderbeard, Filler sarà una tre giorni, 11-12-13 Dicembre, nei quali oltre 40 espositori disporranno di un'area per la vendita dei propri prodotti all'interno di tutto il nostro spazio. La famigerata bastard bowl sarà invece riservata a skate session su prenotazione e gifts for tricks, con premi bomba per i trick più ignoranti!
LINE- UP
Adrenalink >> www.adrenalinktattoo.com
Alberto Becherini >> www.albertobecherini.com
Alessio Rotulo >> www.behance.net/alessiorotulo
Andrea Chronopoulos >> achron.tumblr.com
Andres Jensen >> andresjensen.com
ANML >> anml-animal.tumblr.com
Basik >> www.basik.it
Blessend >> instagram.com/blssnd/
BRM! >> www.biarrem.com
Broken Teeth >> brokenteethgraphics.blogspot.it
Codec Zombie >> www.codeczombie.com
Daniele Margara >> www.danielemargara.com
Davide Pagliardini >> www.davidepagliardini.com
Delletuefiammeavide >> delletuefiammeavide.tumblr.com
El Santo Skateboards >> www.elsantoskateboards.com
Erika Nardi >> www.behance.net/ErikaNardi
Federico Fabbri >> federicofabbriartworks.tumblr.com
Francesco Goat Edelvais >> francescogoatgoat.tumblr.com
Gozer Visions >> gozervisions.tumblr.com
Greta Pins >> gretapins.blogspot.it
Hurricane >> hurricaneivan.blogspot.it
Johnny Cobalto >> johnnycobalto.tumblr.com
La Morte ti Fa Belva >> lamortetifabelva.bigcartel.com
Luca Font >> www.lucafont.com
Luca Marcenaro >> lmarcenaro.com
Luca "Yety" Battaglia >> www.yety.org
MadKime >> www.madkime.altervista.org
Marco About >> marcoabout.tumblr.com
Mattia Pagliarulo >> mattiapagliarulo.blogspot.it
Michele Guidarini >> micheleguidarini.tumblr.com
Murder Skateboards >> murder.it
Museruola Edizioni >> museruolaedizioni.blogspot.it
Officina Infernale >> officinainfernale.blogspot.it
Paola Paganhate >> padiy.tumblr.com
Paolo Proserpio >> instagram.com/paoloproserpio
Rashetti >> therealrashetti.blogspot.it
Rugged Street Apparel >> www.facebook.com/RUGGEDstreetapparel
Rocco Lombardi >> lalberosfregiato.blogspot.it
Spaghetto Child >> spaghettochild.bigcartel.com
Stay Dirty >> instagram.com/stay.dirty/
The Giant's Lab >> thegiantslab.tumblr.com
Thunderbeard >> thunderbeard.blogspot.com
Violet Not The Color >> www.violetnothecolor.com
Yeah! Skateboards >> www.yeahskateboards.com
Per tutte e tre le giornate avremo da bere e da mangiare di qualità per soddisfare anche i più viziosi.
Iscriviti all'evento su Facebook o a quello su Google e vieni a farti un giro con i tuoi amici.