by Riccardo Tognella 28 October 2015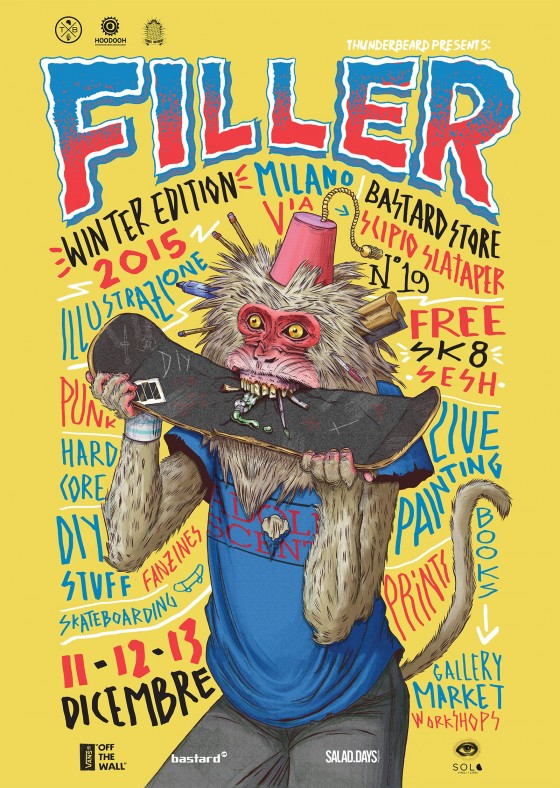 Filler is a convention dedicated to illustrations, graphics and art linked to the punk/hardcore/skater world. All projects embrace the DIY movement.
Created by Thunderbeard, Filler is a three days event from December 11th to December 13th. There will be over 40 exhibitors with their own area for vending. The infamous bastard bowl will only be reserved for those who book the sessions in the bowl in advance. There will be "gifts for tricks" exchanges where during the skate sessions, prizes will be granted to the gnarliest tricks.
LINE- UP
Adrenalink >> www.adrenalinktattoo.com
Alberto Becherini >> www.albertobecherini.com
Alessio Rotulo >> www.behance.net/alessiorotulo
Andrea Chronopoulos >> achron.tumblr.com
Andres Jensen >> andresjensen.com
ANML >> anml-animal.tumblr.com
Basik >> www.basik.it
Blessend >> instagram.com/blssnd/
BRM! >> www.biarrem.com
Broken Teeth >> brokenteethgraphics.blogspot.it
Codec Zombie >> www.codeczombie.com
Daniele Margara >> www.danielemargara.com
Davide Pagliardini >> www.davidepagliardini.com
Delletuefiammeavide >> delletuefiammeavide.tumblr.com
El Santo Skateboards >> www.elsantoskateboards.com
Erika Nardi >> www.behance.net/ErikaNardi
Federico Fabbri >> federicofabbriartworks.tumblr.com
Francesco Goat Edelvais >> francescogoatgoat.tumblr.com
Gozer Visions >> gozervisions.tumblr.com
Greta Pins >> gretapins.blogspot.it
Hurricane >> hurricaneivan.blogspot.it
Johnny Cobalto >> johnnycobalto.tumblr.com
La Morte ti Fa Belva >> lamortetifabelva.bigcartel.com
Luca Font >> www.lucafont.com
Luca Marcenaro >> lmarcenaro.com
Luca "Yety" Battaglia >> www.yety.org
MadKime >> www.madkime.altervista.org
Marco About >> marcoabout.tumblr.com
Mattia Pagliarulo >> mattiapagliarulo.blogspot.it
Michele Guidarini >> micheleguidarini.tumblr.com
Murder Skateboards >> murder.it
Museruola Edizioni >> museruolaedizioni.blogspot.it
Officina Infernale >> officinainfernale.blogspot.it
Paola Paganhate >> padiy.tumblr.com
Paolo Proserpio >> instagram.com/paoloproserpio
Rashetti >> therealrashetti.blogspot.it
Rugged Street Apparel >> www.facebook.com/RUGGEDstreetapparel
Rocco Lombardi >> lalberosfregiato.blogspot.it
Spaghetto Child >> spaghettochild.bigcartel.com
Stay Dirty >> instagram.com/stay.dirty/
The Giant's Lab >> thegiantslab.tumblr.com
Thunderbeard >> thunderbeard.blogspot.com
Violet Not The Color >> www.violetnothecolor.com
Yeah! Skateboards >> www.yeahskateboards.com
For the three days event, we will have food and drinks of the highest quality to satisfy everyone.
Subscribe to the event on Facebook or Google and come join us with your friends!