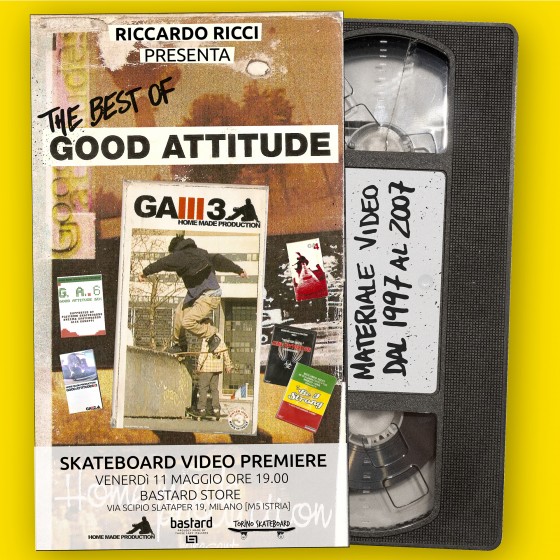 Venerdì 11 maggio al bastard store dalle 19.00 Riccardo Ricci con Home Made Video Production presenta The Best of "GOOD ATTITUDE". L'ultimo suo progetto che raccoglie i capitoli più significativi della saga dei rari video che hanno documentato e raccontato un pezzo della storia dello skateboarding italiano ed europeo dal 1997 al 2007.
Una speciale attenzione va alla part di Giorgio Zattoni e al team Platinum, a molte delle tappe del Campionato italiano Skateboard di quegli anni con Luca Basilico, Chris Astrom, i fratelli Salo, Gianni Zattoni e molti altri tra cui gli skaters torinesi Alex Bertoluzzo, Luca Pilone, Fabio Palombino, Alex Caroppi, Marco Mina e lo stesso Riccardo Ricci.
Questa video premiere con annessa skate session in bowl è dedicata non solo agli skaters old school malinconici dei tempi passati, ma rivolta anche alla generazione attuale interessata e curiosa di conoscere parte della loro stessa storia.
L'ingresso è gratuito e su registrazione ma i posti sono limitati. Puoi assicurarti un posto per la premiere prenotando un ingresso gratuito qui.