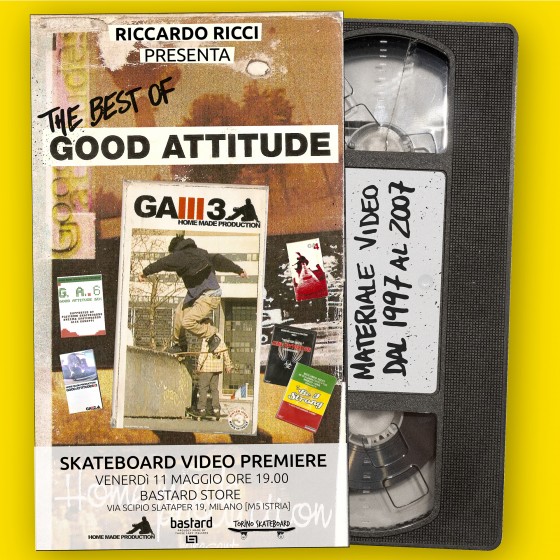 On Friday, May 11 at bastard store starting 7pm, Riccardo Ricci with Home Made Video Production presents The Best of "GOOD ATTITUDE": his latest video project which gathers the most important chapters in the sequel of rare videos that documented italian and european skateboarding history from 1997 to 2007.
Special attention goes to the videopart of Giorgio Zattoni and the Platinum team, to many contests of the Italian Skateboard Championship of that era with Luca Basilico, Chris Astrom, the Salo brothers, Gianni Zattoni and many others including Alex Bertoluzzo, Luca Pilone, Fabio Palombino, Alex Caroppi, Marco Mina and Riccardo Ricci himself.
This video premiere with a session in bastard bowl is dedicated not only to old school skaters lost in nostalgia, but also to the contemporary generation of skaters that are interested and curious about a piece of their own history.
Entrance is free of charge but seats are limited. You can grant yourself a seat for the night by booking a free entrance ticket here.