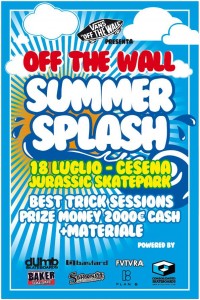 This saturday there is the Summer Splash in Cesena. From 10:00 in the morning untill 8:30 in the night.
Douring the day some best tricks contests, material prize for the not-sponsored skaters and cash for the pros (2000 €).
Material is coming from Vans, bastard, DUmb, Baker, Plan B, Fvtvra, Strange e Consolidated.
Night party at Bagno Universale 80 in Cesenatico ponente: aperitivo and Reggae music with Nameless Sound,  and dj set Dancehall and Jamaican Vibes.
To sleep:
Pensione Susanna
V.le Cavour, 7 Cesenatico Ponente 20€ per person on a double room tel:054781944
Hotel Dani
Via G. da Verazzano, 19 Cesenatico Ponente 32€ per person on a double room tel:054182451
FOR MORE INFO:
IAT Cesena – tel 0547356327