by davidelp 12 September 2011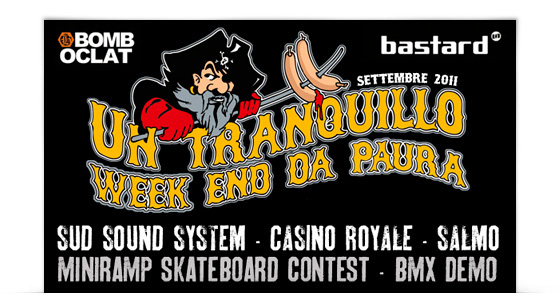 It's time for the 7th Un tranquillo weekend da paura, the skate contest/music festival on September 15-18 in Usmate.
From thursday 15th at the Bonassodromo in Usmate. And obviously for free!
The program is as follows:
THURSDAY SEPT. 15
9.30 pm – Salmo concert
Young rapper from Sardinia, special guest Dj Slait and Enigma.
FRIDAY SEPT. 16
9,30 pm – Casino Royale concert
New album, new live shows. You can't miss it.
SATURDAY SEPT. 17
2 pm
Skateboard miniramp Contest B Category with product prizes from the sponsors.
BMX freestyle demo with the Team Frontocean.
9,30 pm – Sud Sound System concert.
The best dancehall music from Salento, finally live in Usmate.
SUNDAY SEPT 18
2 pm
Skateboard contest on miniramp, where the top Italian and European skaters will fight for the 3000 € prizemoney.
We'll see you there!