by davidelp 10 February 2012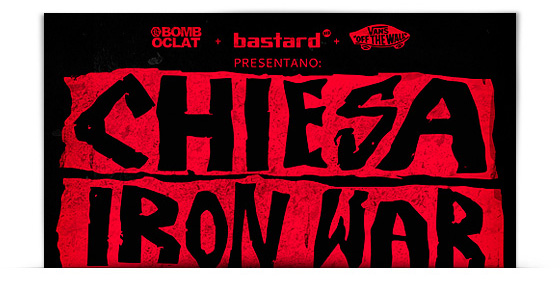 Together with our friends Bomboclat and Vans we are organizing the "Chiesa Iron War".
Where?
At the Palù Park of Chiesa in Valmalenco, one of the most exciting italian snowpark of the last years .
When?
Saturday, February 18th, starts at 10 am until 5 pm. Don't be hurry to come back home because at 10.30 pm starts the OFFLINE Bar after party, it could be a wild party…
What?
We'll be shredding all day on boxes, rails and whatever the Palù Park shapers will make slideable.
An old school contest, no money, no ranking, but a large prize in products to enjoy this crazy and cold winter.
Rails, pole jams and wallrides. Fifteen minutes to shred every structure and immediate prize-giving to follow.
Grill'Em All BBQ and a large quantity of the unmissable Grill'Em All t-shirt only for the strongest.
Saturday, February 18th 2012
Palù Park – Chiesa in Valmalenco
Need a bed?
Consorzio Turistisco Sondrio e Valmalenco
Tel. +39 0342 451150 – info@sondrioevalmalenco.it