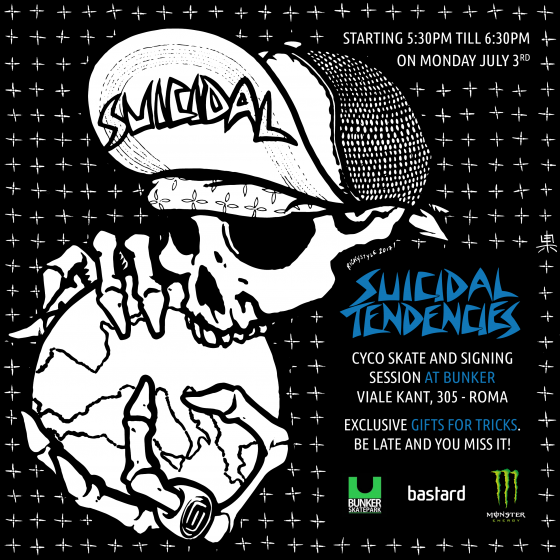 They came to meet us in January for an epic skate and signing session. Then we stayed in contact to develop a very limited bastard x Suicidal Tendencies clothing collection based on some our best classics ever for the winter 2017-2018, available directly from us at the bastard store and in a few selected shops around.
Monday July 3rd starting 5.30pm until 6.30pm the Suicidal Tendencies come join us at Bunker Skatepark in Rome for a signing e skate session with gifts for tricks for the heaviest made in collaboration with Monster Music. Spread the ninfo with your friends, take with you the original records, bandannas, skateboards and memorabilia to have them sign it… or stay tuned to discover what we prepared on this topic.
Facebook event link following: facebook.com/events/316155972165612
P.S. If you missed the bastard bowl session in January then check out this YT video with Dave Lombardo on the flat bottom and Mike Muir talking…  come to meet them personally in Rome!