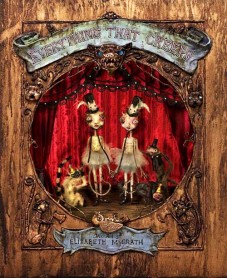 A bunch of new and old interesting books has just arrived at the bastard store; among them Everything That Creeps.
Elizabeth McGrath, LA angel-faced artist, collects in this book some of her most creeping, bloody and repulsive creatures.
An irriverent sculptress who has created a fantafreaky world, populated by odd and freaky characters meant to be hung on your wall or to be displayed on your nightstand (she has her beloved dead and stuffed chihuahua on hers).
On the one shelf on which you put your childood relics, next to Goldrake, you could also put a McGrath's sexy doll with bloody legs, or some drunk miniature insects or, if you really love animals, a chopped hare head.
The deep-dark iconography of Elizabeth shocks, amazes and amuses, her sculptures are full of truculent details and they evoke disturbing atmospheres "a la David Lynch" but thanks to the wise mixture of kitsch, irony and horror they come out excessive yet refined.
Here's a video recently featured on Boing Boing tv in which David Pescovitz meets Liz McGrath.