by davidelp 10 September 2012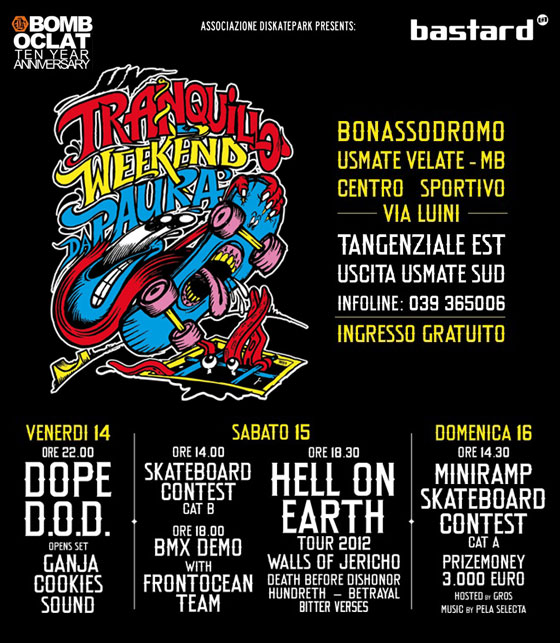 We're ready for the most anticipated event of September, Un Tranquillo Weekend da Paura 2012 edition. The program is as follows:
FRIDAY SEPT. 14
9 pm – concert
DOPE D.O.D. + Ganja Cookies
SATURDAY SEPT. 15
2.30 pm – skate contest
Skateboard miniramp Contest B Category with product prizes from the sponsors.
Before finals, BMX freestyle demo with the Team Frontocean.
6.30 pm – concert
HELL ON EARTH, european hardcore-punk tour, 5 bands on the stage:
Walls of Jericho – Detroit metalcore, USA
Death Before Dishonor – Boston oldschool hardcore, USA
Hundredth – melodic hardcore, USA
Betrayal – hardcore, california, USA
Bitter verses – hardcore, DE
SUNDAY SEPT. 16
3 pm – Miniramp skateboard contest.
Skaters from Italy and many guests from abroad will fight for the 3000 euros cash prizes, at the notorious miniramp also known as Bonassodromo di Usmate.
Here the last year edition video report to refresh your memory.
As usual, free entrance for concerts and skate-contest.