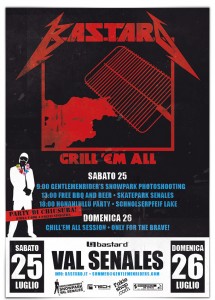 We proudly announce the first Val Senales edition of the infamous bastard Grill'Em All.
Saturday, July 26th we'll be waiting for you with a nice bbq, beer (obviously Forst), music and friends. Along with some skateboarding and snowboarding (for those who can!). Together with the ever present Alex FakieShop and the gentlemenriders , we'll have the whole Lazy Riders squad: Lukas Goller, Whatza and Mattia Molnar are gonna show some actiion at the snowpark saturday morning, while Nikolai Danov, Marco Lambertucci and Daniele Galli will be testing the skatepark.
What else? The snowpark is sick, the skatepark got recently re-layered, and the beers will stay cool 'til late night, so i guess i'll see you there!
P.s. There's a tempting Weekend offer at the Zirm Hotel, all you can drink until 10pm!