by giuli 16 September 2009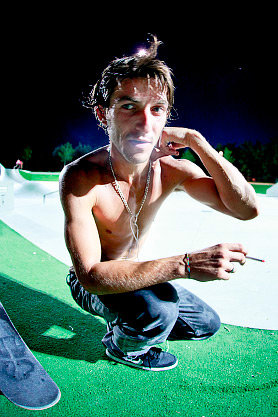 Marco Lambertucci, a.k.a.the Bauli, after working hard throughout springtime on "extraskate" projects, took his summer revenge, travelling around and killing it on his board as usual! He went to Belgium and The Netherlands with Nikolai Danov and Davy Van Laere to shoot photos and film, to the Grill'em All in Schnals (on the Alps) and to top it off he went out on a nice photo mission with me on the Riviera Romagnola, the area where he's from.
And last Sunday he scored the best trick at the ninth edition of the Zucka vs. tutti, with his signature frontside kicklip shot down a quite gnarly staircase! The lazy rider went back to his hometown Riccione with a big smile on his face and a 250 euros cash prize. Bravo! Click here to watch the event report.