by giuli 21 September 2010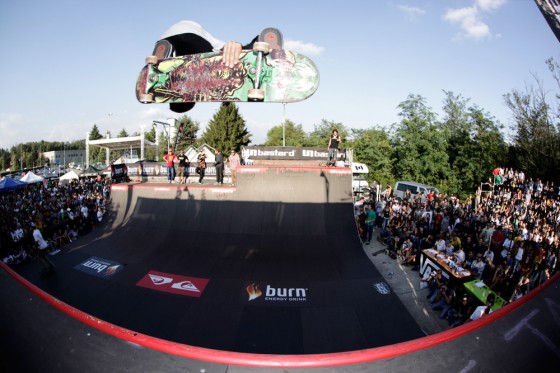 Things start off by meeting the dirty romans Nikolai Danov and Milo Marra in Milano Centrale. Double train to Usmate, obviously it would only be a twenty minutes drive! But we're big time CO2 savers!
Once we get there we spot the Real McKenzies, chillin' and playing guitars under a tent. It's pouring rain all around. We join the good company and beer after beer we accept the stormy weather.
At least it stops in the evening, letting us party and enjoy Pela's Dj set…
The next morning, partly because life is good, partly because it can't always suck, the sun is shining and the session is finally ON.
Many people, many tricks, many beers.. As always, a great day; Bonassi's ramp, GroS on the mic, pork ribs like there's no tomorrow, and of course some healty skateboarding.
Ivan Federico shockingly nailed 20 or so kickflip melons on the extension, as well as Daniele Terminator Galli landing perfection almost every time. Then we enjoyed watching Marcos the Brazilian with some crazy crowd pleasers, Basilico showing the youngsters he's still got those moves, Stanco's riding, the Roma connection's skating (Milo, Nikolai and Peppe the Gipsy), local Andrea Jimmy Cantù gets best trick with a Pivot Fakie on the Burn fridge that screams danger!
First place Marcos Gabriel da Silveira, second Ivan Federico, third Daniele Galli. Jimmy makes 500 euros with the burn best trick and takes us all to a sushi restaurant! Way to go Jimmy!