by davidelp 22 April 2011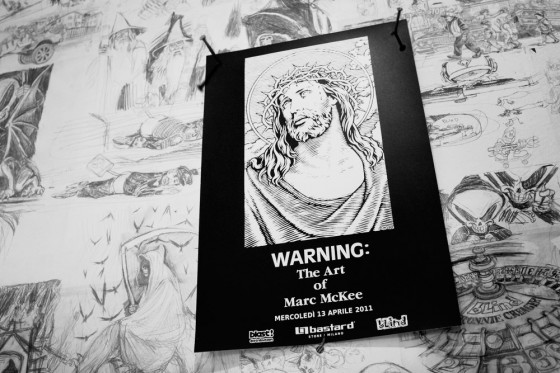 Marc McKee and his artwork have been hosted at the bastard store during the days of Milan Design Week, too bad Marc packed everything up on tuesday and flew back to LA with his precious load of skateboards, sketches, drawings and stickers.
Thanks to Marc – who's also the hand behind skateboardgraphics.com – to Blast! Distribution and to everyone who came by to behold the exhibition of a milestone in the history of skateboarding.
An interview with Marc aired on RAI5 inside the show Cool Tour on Wednesday, April 20th, here the video. [It's italian language only, needs Microsoft Silverlight !? and starts at 00:08:38 …sorry for this]
A few copies of the book are still available at the bastard store along with the few silkscreen prints left, which were issued in a limited series of 30 pieces.
The graphic, which you can see in the photo above, is the Jesus taken from the famous Gabriel Rodriguez pro model for 101.