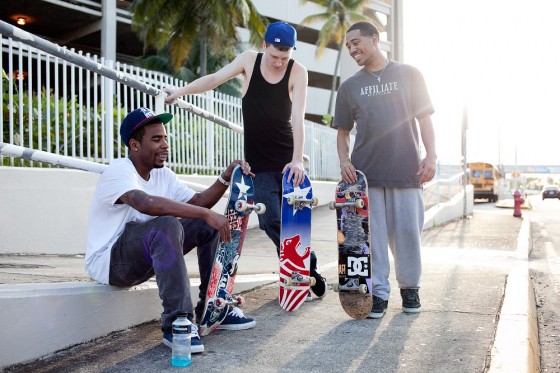 I just came back from a nice Puertorico tour with Affiliate Skateboards, although i quickly hit Chicago on the way back, where the Affiliate headquarters are at, to organize the material with the boys and to get ready for the winter in Milano.
The crew was well sorted and moving 13 heads altogether wasn't always the easiest task, but i have to say  that things got handled pretty smoothly. Besides hitting an alarming number of spots, we even got a chance to check the beach on our given sunday, and it was well worth it.
Showing us around the Isla Del Incanto, besides some awesome locals, we had Johnny Fonseca, half Puertorican half Chicagoan, ex-pro for Real and later Affiliate, and Brad Johnson of San Francisco, moved to the island for romantic reasons.
Sam Maguire's lens snapped all the notable action which will be soon featured in an article (could be on The Skateboard Mag), besides a video report soon available online thanks to our ever present two filmers.
You can check out the full story and updates on the Affiliate Skateboards blog.