by davidelp 18 March 2011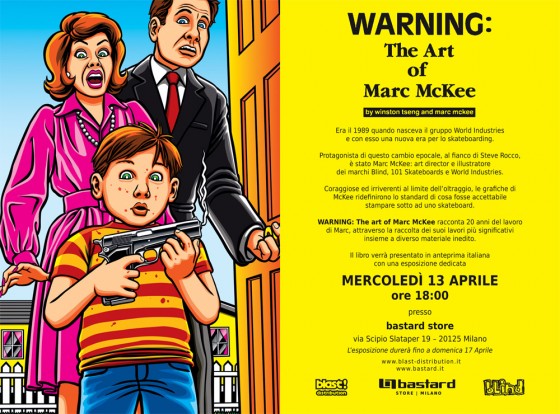 Marc McKee's art was so controversial that they had an entire wall of Cease and Desist orders for his graphics at World…

Rodney Mullen
Blast Distribution presents WARNING: The Art of Marc McKee, italian premiere at bastard store, via Scipio Slataper 19, Milano.
Grand opening on Wednesday April 13,  at 6:00PM, presenting the book on Marc McKee – the illustrator who changed skateboard graphics forever – and some of his greatest artwork and decks.
WARNING: The Art of Marc McKee was realized by Winston Tseng, Art director at Enjoi Skateboards. 96 pages to show Marc McKee's art, from his early works in the 80s to nowadays.
Marc has produced more than a 1000 skateboard graphics, mainly for World Industries, blind and 101. Some of which are milestones in the history of skateboarding, basically all the controversial and uncomfortable ones…