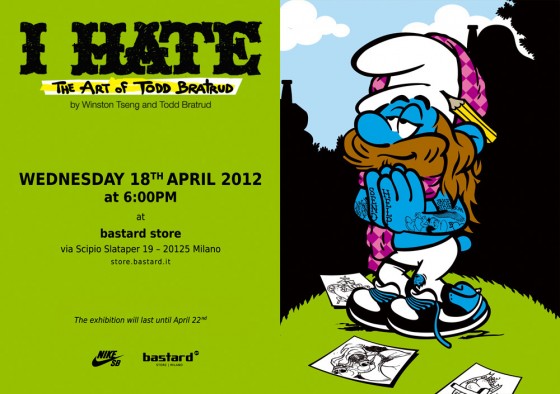 Todd is a rare beast in a world of manic art…

Geoff Rowley
Nike SB and bastard present I Hate – The Art of Todd Bratrud, book release and art show at bastard store, via Scipio Slataper 19, Milano.
Grand opening Wednesday April 18, at 6:00PM, presenting the first book dedicated to Todd Bratrud's artwork. Todd and Winston Tseng, co-author of the book and art director at Enjoi Skateboards, will be present at the opening.
Todd is one of the most prolific artists working in skateboarding. After getting his start at Consolidated, he's gone on to produce work for companies such as Flip, The Skateboard Mag, Nike, Volcom, Enjoi, Teenage Runaway, and of course his own company The High 5.
I Hate – The Art of Todd Bratrud contains a selection of Todd's personal favorite works from recent years. It's proving to be too difficult to decide which graphics from his portfolio to exhibit, because there are all masterpieces, so we'll just leave it to Todd and Winston to choose the pieces for the exhibition. Come join us and see for yourself!