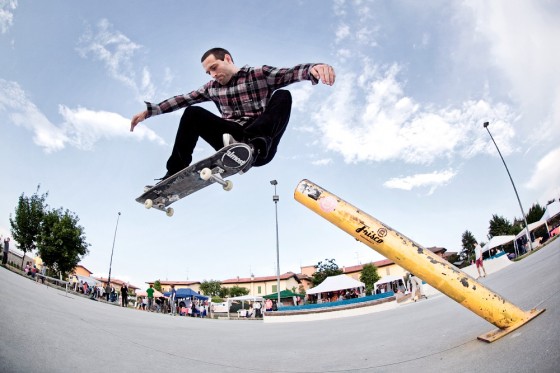 Still curled up in my bed sheets i get up to the hubble-bubbling of the classic labour day demonstration marching beneath my window, followed by another group in which i glimpse a palestinian flag, but the language spoken over the speakers doesn't help me and my neighbour in understanding what it is exactly about…
After snapping a picture of the demonstration, i jet to the Lambro where we gather for heading to the Polaresco bowl in Bergamo.
So we sail with Amen and the Giordano bros; we meet there with Galli, Cattaneo and Formenti, along with a few locals and Bergum.
We then go to the Creedence Skatepark in Castrezzato, near Brescia, where we see a big party going on, picnic tables and good food, kids playing in the open fields, flea market, and the sweet transitions built by Seba Rossi, Kendall & co.
The park is genuinely fun, and the guys are already working to expand; a really good vibe with a great party for labour day, topped off with the night concert, which unfortunately we could not attend.
Thanks Creedence boys, see you next time!